"the incomparable treasure hidden in the field of the world and of the human heart" (Clare of Assisi, Third Letter to Agnes of Prague)
Welcome to Lent with Saint Clare – see prayer below
A Different Approach – from Ilia Delio, OSF
Francis of Assisi, attained the heights of contemplation through a penetrating vision of creation. With a basic education in reading and writing, Francis came to prayer from a popular and lay experience. He looked on the material world—not for what it is but for how it is: God's creation.
For Francis and Clare of Assisi their relationship with God was based on faith that God became human in Jesus Christ ~ the incarnation. For them their relationship with God was an intimate one; they wanted to follow Jesus as closely as they could. Prayer in the Franciscan tradition is not about attaining something new, it is discovering what is already in us.
The journey of prayer for Franciscans is the discovery of God at the center of our lives. God exists inherently within the very seed of our identity. Franciscans pray to open up the image of God in which we are created, the God within all of creation and the God who loves us unconditionally.
Life can be unpredictable, but one thing is certain, God is with us, within us and surrounds us with infinite love. We move toward God because God has first moved toward us: This is the Franciscan path of prayer.
Below are prayers for the 2023 Lenten journey. They will be updated regularly for you to use.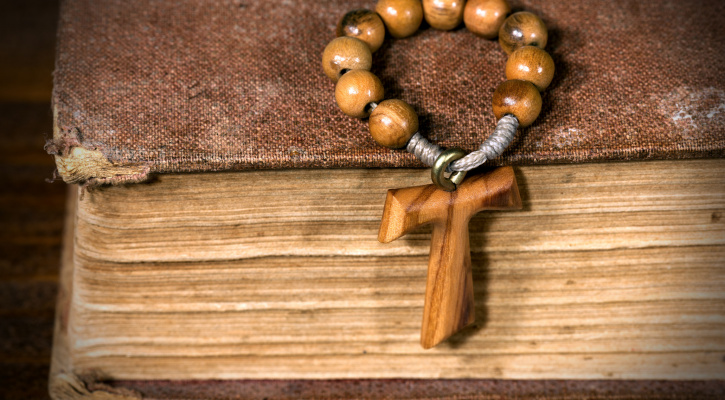 Prayer
Lent with Saint Clare
During the 40 days of Lent please FSA will update this page with prayers for inspiration and self-examination. When you are able, pause and reflect upon your spiritual journey and listen for God's invitation.
ASH WEDNESDAY – 22 February 2023
Today is the start of our Lenten journey. On our foreheads we wear ashes, a sign that we are made of dust and to dust we shall return. Such an outward sign conveys a message that words do not. When St. Clare left her home under cover of night, she had Francis cut off her long hair, signaling her departure from her previous life and entrance into her new one. We are now entering a new season of our faith. Clare will be
our guide through her words and actions.

St. Clare, as we receive the ashes on our fore-heads and go about our day, may your story
remind us to live our faith for all to see.
Simple. Prayer is about God and our relationship to God.
Ilia Delio, OSF