Saint Francis of Assisi
Francis of Assisi (1182 – 1226) is one of the most thoroughly documented figures in history and, in our ecologically-conscious and pet friendly age, he is one of the best known and perhaps even the most popular of all saints. Persons, not otherwise known to be particularly religious or spiritual know of and speak fondly about this Saint, his life and the enduring characteristics of his brothers that span more than eight centuries.
The two authors who continue to inform much of the understanding of Francis of Assisi, are Thomas of Celano, who wrote two lives (legends) of Francis in 1228 and 1248, and St. Bonaventure who had published the two versions of Francis's life by 1262. This considerable body of material was really hagiographies, that is, writings about people who are considered holy. Francis' life, words, virtues, and miracles are described in loving detail. These first biographies are marked by cultural and religious upbringing, the outlook of those who provided them, by the atmosphere and ideals of the times and by the writer's personal choice of material.
Thaddee Matura OFM in his book Francis of Assisi The Message of His Writings explains that Francis left a message, a view of reality, an overall vision of God, of humanity, and of the world, as well as a plan for life's journey. His message concerned the Christian life and therefore can be called a "spirituality". But a Christian spirituality cannot be centred on any mere human, no matter how great or holy, but only on Him "who alone is holy, Jesus Christ."[1] He implores us to distinguish between the person and the writing to discover the essential message. However, Francis is a special case.
His message is simply himself and his way of life.
---
[1] Matura, T. OFM, Francis of Assisi The Message in His Writings, (Franciscan Institute Publications: St. Bonaventure, New York: 1997,2004) p.4.
Find out more about Saint Francis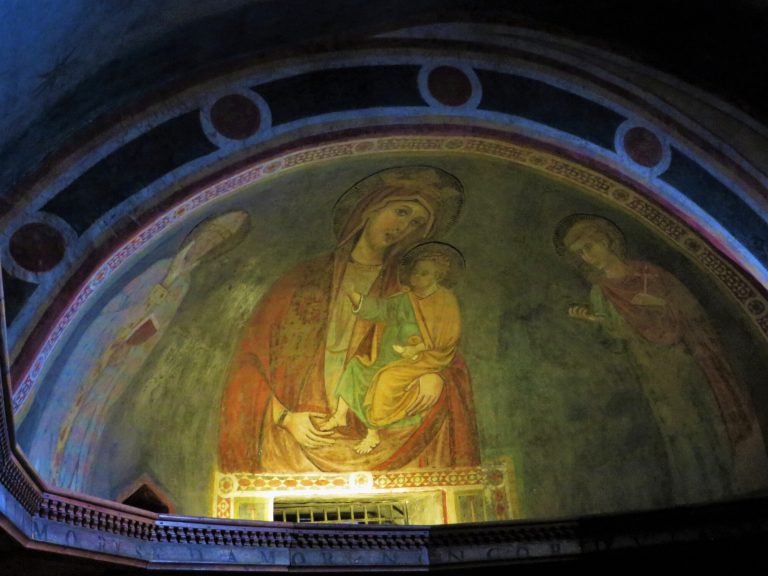 Saint Clare of Assisi
When the child was born, Ortolana named her Chiara, or Clare, "the clear one", "light", "brightness."
Almost 800 years ago, on Palm Sunday evening in the year 1212, a young girl from an aristocratic Umbrian family dramatically fled her family home under cover of darkness to join Francis of Assisi and his brothers. In the valley below the town of Assisi she met them in the tiny church of St. Mary of the Angels that Francis had repaired after his conversion. She was ritually welcomed into this family of brothers, and promised herself to God that night. Her hair was cut and she was clothed in the simple tunic that identified her as part of the group, the minores, or the "little ones". Clare di Offreduccio, later known simply as Clare of Assisi, risked everything that night to respond to the compelling call to seek God, to leave everything behind – status, security, family name, home, wealth – for the one thing necessary.
Saint Clare is a light for FSA schools.
Never let the thought of God leave your mind. St Clare of Assisi
Find out more about Saint Clare